Overview
You've got choices with TakeCare
Thank you for considering TakeCare for your health care needs. At TakeCare, we are committed to giving you choices while delivering quality and affordable health care benefits and services that's focused on you and your family needs.
If you have questions about which TakeCare medical or dental plan might be right for you, answering the following can help you choose a plan that might be the best fit.
What type of coverage will you need? See the benefit summaries below.
Is cost an important consideration? See the payroll deduction amounts below.
Will you need in-network or out-of-network coverage? Check our Provider Search Tool to see if your doctor, dentist, or preferred facility is included in our extensive network, on or off island.
Are you taking any prescription drugs? View our Rx Formulary List to see what medications are covered by the GovGuam self-funded prescription benefit plan for FY2023. You can also see what medications are not covered with recommended alternatives. Click here to view the plan's benefits.
Are you interested in joining a gym? Choose from TakeCare's 20 different fitness partners on Guam. Click Here for a full list.
Looking to better manage your health? Click here to learn more about our extensive list of free wellness and health education classes
Interested in earning money by completing recommended health screenings, making health improvements, going to the gym regularly? Earn up to $600 as an individual through our wellness incentive program. Click here for details.
Important Update – September 20, 2022
The Government of Guam is requiring ALL retirees/survivors currently enrolled in the RSP Classes 2 and 4 to submit a FY2023 enrollment form to identify what Class (i.e., 2a, 2b, 4a, 4b) for which they qualify. This applies to both retirement plan DB and DC participants.
TakeCare enrollment forms and information about the RSP and rate classes are available at the GovGuam Retirement Office, TakeCare Customer Service Office, or click here.
Forms must be completed and submitted to the GovGuam Retirement Office or TakeCare's Customer Service Office by no later than next Monday, September 26.
Important Update - September 23, 2022
What are my options if I want to continue using the drug I'm currently covered for under SelectCare but it's not on the TakeCare formulary? Will TakeCare continue to cover that drug or do I have to go through the medically necessary process again?

The GovGuam self-insured prescription benefit plan, administered by TakeCare, will cover that drug, beginning Oct 1, for up to ninety (90) days with no disruption. During that time TakeCare will work with you and your medical provider to transition your medication to a formulary drug. Exception requests will be considered for medical necessity if submitted to TakeCare by the provider within this 90-day period. If the exception request is not approved and you wish to continue with the same medication after the 90-day period, you will be responsible for your related cost share (deductible, copayment) plus any expense in excess of the formulary medication's cost.
Important Update – September 26, 2022
Open Enrollment is extended to Monday, October 10. See copy of circular below.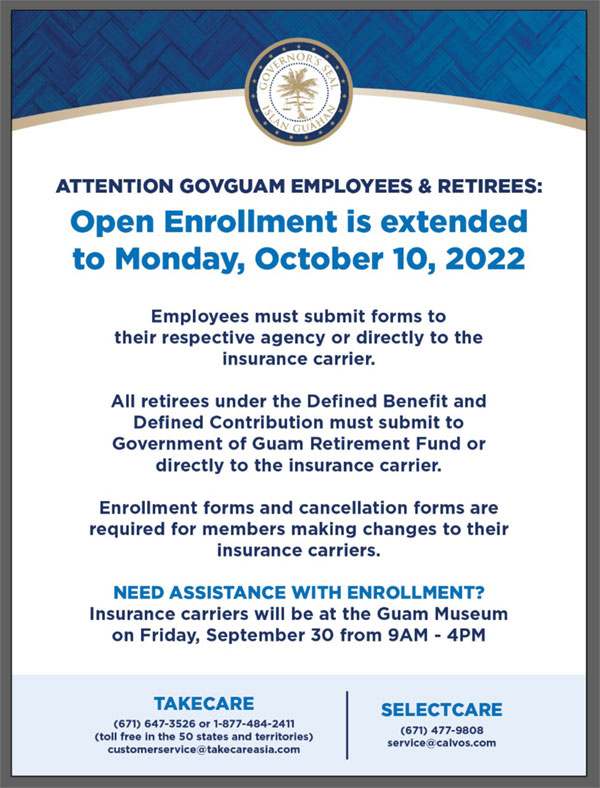 TakeCare enrollment forms and information about our benefits and rate classes are available at your agency office, the GovGuam Retirement Fund Office, TakeCare's Customer Service Office, or here on this page.

Forms must be completed and submitted to any of the above places by no later than Monday, October 10. However, we encourage you to submit your forms by no later than September 30 to avoid possible enrollment processing delays.

Need additional assistance?
Carrier representatives will be at the Guam Museum on Friday, September 30, 9am -4pm, to answer your questions and receive your completed enrollment forms.
For your convenience, TakeCare's Customer Service office is open M-F, 8am-6pm: Saturdays, Oct 1 and Oct 8, 9am-2pm during this open enrollment extension period to assist you.
Request a GovGuam FY2023 Benefit Packet
Click here to request a TakeCare information benefit packet.
Refer to the videos and information below to review TakeCare's GovGuam FY2023 plan options, cost shares, and to access other important information
Open Season Benefit Overview
Customer Service Office Hours
In addition, our customer service office is open in Tamuning. For your safety and convenience, in-person visits by appointment is the preference.
Hours of operation during open enrollment are 8am to 6pm, Mondays – Fridays. The first hour (8am-9am) being reserved for manamko' and those persons with disabilities.
To make an appointment or call us at (671) 647-3526 or via email at customerservice@takecareasia.com to make appointment arrangements..
Payroll Deductions
Employee Rate Shares
(biweekly)

PPO1500

HSA2000

Dental1000

Class 1

Employee Only

77.36

2.04

7.69

Class 2

Employee + Spouse/Domestic Partner

193.51

45.08

25.18

Class 3

Employee + Dependent Child(ren)

145.71

36.21

20.03

Class 4

Employee + Family

239.13

58.83

33.14
Retiree Rate Shares

PPO1500

HSA2000

RSP1

Dental1000

(semi-monthly)

Class 1

Retiree Only

83.81

2.21

0.00

8.33

Class 2

Retiree + Spouse/Domestic Partner

209.64

48.84

2a 0.00

27.28

2b 194.44

Class 3

Retiree + Dependent Child(ren)

157.85

39.23

74.01

21.70

Class 4

Retiree + Family

259.06

63.73

4a 0.00

35.90

4b 452.41
1RSP Subscriber Classes
Class 1 RSP Subscriber Only
Class 2a RSP Subscriber + RSP Spouse/Domestic Partner
Class 2b RSP Subscriber + Non-Medicare Spouse/Domestic Partner
Class 3 RSP Subscriber + Non-Medicare Child(ren)
Class 4a RSP Subscriber + RSP Spouse/Domestic Partner + Non-Medicare Child(ren)
Class 4b RSP Subscriber + Non-Medicare Spouse/Domestic Partner and Child(ren)
FY2023 Benefit Plans
The TakeCare Summary of Benefits and Coverage (SBC) for each of its FY2023 Plans are available through the following links:
Important Note: GovGuam's FY2023 Self-insured Prescription Benefit Coverage and Dental Coverage will be administered by TakeCare. Please refer to the separate booklets titled "Prescription Benefit Program" and "Dental Benefit Program" above for details.
Need more information?
Other Important Links
USEFUL LINKS
---
GovGuam Forms and Resources