COVID-19 (Coronavirus) Announcements
from TakeCare Insurance Co & FHP Health Center

TakeCare
In an effort to be proactive with the current state of preparedness for COVID-19, TakeCare's highest priority is to ensure the health and safety of our members, staff, families, and community while continuing to serve our members at the highest level possible.Guam is currently under PCOR2 and here is what you can expect on TakeCare's services:
TakeCare will continue to operate at a limited capacity at our administrative offices on Guam and Saipan. Essential personnel continue working remotely to provide services during this period and observe social distancing. We encourage customers to transact business over the phone or via email. If it is critical to visit our office, please schedule an appointment(see below).

Customer Service and Medical Referral Services (MRS) remain primarily available to you by phone or e-mail. 

For urgent eligibility or coverage inquiries, members are advised to call TakeCare Customer Service at (671) 647-3526, Monday-Friday, 8am-5pm ChST. Non-urgent inquiries should be sent to us at customerservice@takecareasia.com.

For medical referral or prior authorization inquiries or requests, please call TakeCare MRS at (671) 300-5995 or via email tc.mrs@takecareasia.com
Office Visits Available By Appointment Only

Effective May 18, 2020, if there is a genuine and urgent need, a limited number of Customer Service and/or Medical Management staff are available to meet with you inperson by appointment only at our Tamuning or Garapan offices. 
Please call (671) 647-3526 (Guam) or (670) 235-0994 (Saipan) to schedule an appointment in advance. No walk-ins allowed. And we again advise that, if you absolutely don't have to come in, the preferred methods for interactions is via telephone and email (see above). 
 
The wearing of masks, temperature checks, and social distancing will be strictly enforced for anyone entering our offices for your safety and those around you. If you aren't wearing a mask or if your temperature is over 100oF, you will not be allowed to enter the office. Please note that masks will not be provided. You must bring your own mask.
Due to the restricted waiting area space and the need for temperature screening, we ask that you arrive at least 10 minutes prior to your appointed time. To maintain social distancing, you may also be asked to wait outside until we can service you.
 
In compliance with CDC and DPHSS COVID-19 guidelines on social distancing, only adults with appointments will be allowed to enter the office. If you need to be accompanied by someone during your visit, please make those arrangements when setting your appointment. 
These restrictions may be difficult for patients and their loved ones, but TakeCare is taking these necessary steps to protect you and our staff. Limiting the number of individuals in the office is temporary and is being done for the safety of everyone.

Drop Box Available
A drop box for documents and payments is available at TakeCare's Customer Service offices in Tamuning and Garapan. 

Pay Online Service Available
Members may visit our website on www.takecareasia.com to make payments on Medical and/or Dental Premiums

Temporary Benefit Enhancements
To increase access to consultation services under the governor's emergency declaration relating to COVID-19, we've updated our TakeCare coverage policy to cover the following services from March 16, 2020 to May 31, 2020, or until further notified of any changes:
 
Coverage for the COVID-19 test and associated visit under the preventive care benefit, at no cost to members, provided these tests and visits are not covered by the Public Health System

Allowing for early medication refills at in-network retail pharmacies for an additional 30 days for members who meet criteria

TakeCare is expanding its Telehealth benefit coverage to include audio and video services using a computer, tablet or smartphone in addition to phone consultation for primary and specialist consultation. TakeCare encourages its members to use telehealth services to limit potential exposure in physician offices. When related to COVID-19 testing and associated visit, applicable member share (copay, coinsurance, deductible) is waived. Otherwise, member share applies. Contact your provider regarding the availability of telehealth services.

Click here for Travel Advisory
 
Provider Relations
For provider relations, our contracting team will continue to work remotely to provide limited services. Providers should continue to send their claims electronically (EDI or secured email) and all claim payments from TakeCare will be mailed out. 
For inquiries, TakeCare's contracting teamcan be reached through the following e-mails:
Primary e-mail: TC.Provider@takecareasia.com
Genesis Dela Rosa
Contracting and Credentialing Specialist
Genesis.DelaRosa@takecareasia.com
 
Donabel A. Little, MPH, NDTR, CDM, CFPP, ACE-CHC
Clinical Quality, Wellness and Contracting Manager
Donabel.Little@takecareasia.com
Mobile (671) 686-3678

We are continuing to monitor the news, updates, and guidance from DPHSS, World Health Organization, the CDC, and other agencies regarding the 2019 Novel Coronavirus (COVID-19) and will adapt our operating procedures accordingly. For the latest updates, visit our website or follow us closely on social media.
Thank you for your continued support and trust in TakeCare Insurance Company, Inc. for your health insurance needs and coverage. TakeCare is committed to providing you and your dependents quality health insurance services.
 

FHP Health Center
For the most up-to-date information, please visit our Facebook page, website or you can call our main phone line at 646-5825 extension #8174.
 
FHP Revised Hours(as of May 12, 2020)
Temporary Revised Hours during Covid-19 Pandemic: Effective Sunday March 29, FHP Health Center is open from 8:00 am – 6:00 pm, Saturdays thru Thursdays. We will be CLOSED on Fridays. DLS at FHP Health Center will mirror FHP's hours of operation. 

Mega Drug III at FHP is open from 8am – 6pm, Saturdays thru Thursdays. CLOSED on Sundays and Fridays.

FHP's Cancer Center, Adult Medicine and Pediatrics department will also be open for limited services and availability based on scheduled needs.

FHP Vision & Dental Centers Now Open
To help serve our patients during this COVID-19 pandemic, the FHP Vision and Dental Centers are opened by appointment only.
 
FHP Dental Center patients please call 646-5825, press 2 to make an appointment, then press 2 to schedule an appointment or for inquiries.
 
FHP Vision Center patients please call 646-5825, press 2 to make an appointment, then press 3 to schedule an appointment or for inquiries.
 
Vision and Optometry services include:
Valid prescription refill for eyeglasses or contact lenses;
Frame adjustments (curbside drop off and pickup only; please call (671) 646-5825, Press 2, before proceeding through curbside drop off and pick up)
Eye Exam with Optometrist.
 
Any urgent visits will still require patients to call in and schedule an appointment.
 
For any optical services such as eyeglasses, frames, or contact lenses, please email albert.soriano@fhphealth.com.

Click here for detailed schedule

These hours reflect FHP's participation with SDA and AMC clinics as the three CURE Tier facilities that are accepting GMH overflow urgent care patients.  The clinics are rotating schedules so they can be closed on different days:  FHP (Fridays), SDA (Saturdays), and AMC (Sundays).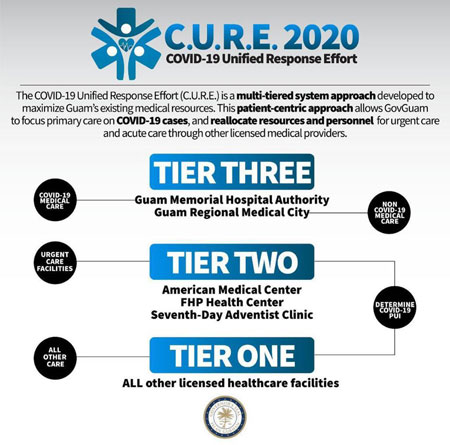 We understand that you and your family may be anxious about COVID-19. We want to assure you that FHP Health Center has a rigorous infection-prevention protocol that meets local, state, and federal regulations.
 
Our top priority is to ensure you and your family's safety at all times. Please, take a moment to determine if you meet any of the following criteria listed below:
 
Fever
 
Cough
 
Shortness of breath or difficulty breathing
 
Traveled or been near a person who has tested positive in the last 30 days
 
If you answered "yes" to any of the criteria above, call the FHP Health Center at 646-5825 EXT. 8174, Saturdays through Thursdays between 8am-6pm.
FHP Medical services are open to serve you. Our medical services are Urgent Care, Adult Medicine, Pediatric, Radiology and Cancer Center.
 
In compliance with CDC and DPHSS COVID-19 guidelines on social distancing, FHP Health Center has temporarily implemented limitations on patient chaperones.
 
For minor or pediatric patients – only 1 guardian or parent to accompany patient
 
For adult patients – 1 chaperone for elderly and adult that needs assistance.
 
For adult able patients – no chaperone allowed
 
These restrictions may be difficult for patients and their loved ones, but FHP Health Center is taking these necessary steps to protect patients, staff and community. Limiting the number of chaperones is temporary and is being done for the safety of everyone
 
FHP Health Center has implemented a COVID-19 screening process at all building entrances. Prior to entering the clinic, a screener at the door will interview you and your family members. The screener will determine if you will require additional assessment at our designated isolation area by a nurse and provider or are able to enter the clinic.
 
As a reminder, the best prevention includes washing your hands frequently, observing cough etiquette, stop touching the facial area, maintaining a social distance and avoiding large crowds.
 
Thank you for choosing FHP Health Center for all your health care needs. We will always be committed to protecting your safety while maintaining a high-quality of care.
 
We're all in this fight to stop the spread together. Thank you for your cooperation.