Overview
2021 Benefit Briefing Presentation
Request for a 2021 FEHB Benefit Packet
Click here to request a TakeCare information packet including the 2021 brochure.
Benefit Improvements for 2021
Here are the new benefit improvements being made to all three health plan options (High, Standard, and HDHP).
Emergency Services Notification – TakeCare is eliminating the requirement for members to contact TakeCare "within 48 hours" for emergency services rendered within the service area that do not result in hospitalization.

Weight Loss Medications – TakeCare is adding coverage for weight loss medications. Weight loss medications to be covered as any other medication subject to prior authorization and benefit coverage criteria such as but not limited to Body Mass Index and/or co-morbidities.

Continuous Glucose Monitor – TakeCare is adding coverage for continuous glucose monitors at 100% with no charge to member if patient is actively participating in TakeCare's Diabetes Management Program and meets criteria for coverage based on HbA1c levels.

Preventive Medications – TakeCare is expanding its list of covered preventive medications with no charge for certain chronic conditions including diabetes, congestive heart failure, coronary and artery disease, osteoporosis, hypertension, asthma, depressions, heart disease, liver disease, and bleeding disorders.

Telemedicine Services – TakeCare is expanding coverage for telemedicine services to include consultation visits via phone, audio and video services using a computer, tablet or smartphone with in-network primary care physicians and specialists, including behavioral health professionals.
Please note this is a summary of changes to the TakeCare FEHB plan options for 2021. This isn't the official statement of benefits. Please refer to the plan brochure for the detail.
Non-Postal Bi-weekly Shares*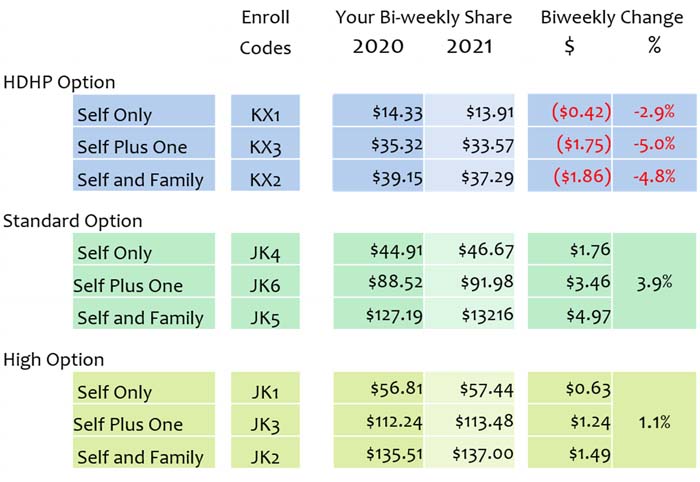 * Postal Categories 1 and 2 and monthly shares can be found on the back page of the brochure
2021 Benefits
The TakeCare Summary of Benefits and Coverage (SBC) for each of its 2021 Options and Uniform Glossary are available through the following links:
Other Important Links
2021 Non-FEHB Supplemental Wellness Package
(enrollment is now closed)
2021 Non-FEHB Supplemental Dental Coverage
(enrollment is now closed)