Overview
Get Ready!!
This year, the annual FEHB Open Season will run from November 8 - December 13, 2021. Now is a great time to learn more about TakeCare's 2022 FEHB offering.
Thank you for considering TakeCare for your health care needs. At TakeCare, we are committed to giving you choices while delivering quality and affordable health care benefits and services that's focused on you and your family needs.
Consider the following questions to help you choose a plan that might be a best fit for you.
If you need help enrollment help, please refer to OPM's FEHB Guidance links in the box to the right or contact us at (671) 647-3526, customerservice@takecareasia.com
Click
HERE
to ask a question or request for more information.
Refer to the videos and information below to review TakeCare's 2022 plan options, enrollment codes, premiums and costs, and to access other important information.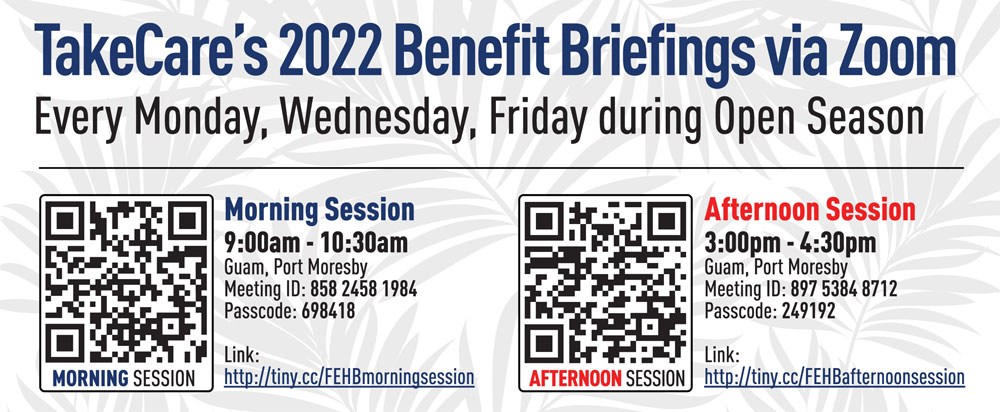 Request for a 2022 FEHB Benefit Packet
Click here to request a TakeCare information packet including the 2022 brochure.
Updates
6/16/2021
TakeCare adds GRMC to its provider network
TakeCare has signed a long-term agreement with Guam Regional Medical City (GRMC) effective May 21, 2021. Under the agreement, TakeCare's federal and commercial members now have in-network access to GRMC's full range of medical services on Guam including cardiology, oncology/hematology, hyperbaric wound care, neurology, orthopedics, pulmonology, infectious disease, and other services such as, but not limited to, radiology, patient education, physical therapy, rehabilitation, and emergency services. Click here to learn more.
8/24/2021
TakeCare welcomes back SDA Clinic to its provider network
TakeCare has signed an in-network provider agreement with the Seventh-day Adventist Guam Clinic (SDA Clinic). Covered services include primary care, OB/GYN, radiology, physical therapy, pharmacy, dental, and vision services. Click here to learn more.
10/15/2021
TakeCare expands US provider network access for its federal members
Beginning January 1, 2022, TakeCare federal members will have in-network access to over 1.2 million healthcare providers in the continental US and Hawaii. This is made possible through TakeCare's network affiliation with Multiplan, one of the largest network management companies in the country. Click here to learn more.
Virtual Benefit Briefings
We're delivering live virtual benefit briefings throughout open season. Click here to view the schedule for these virtual benefit briefings to be conducted via Zoom.
In-person Information Opportunities
Prefer to get your questions answered in person or want to pick up a packet or drop off a form?
Click here for a calendar of TakeCare's Federal Open Season Health Fairs you can attend.
In addition, our customer service office is open in Tamuning. For your safety and convenience, in-person visits by appointment is the preference but walk-ins are welcome.
Hours of operation are 8am to 5pm, Mondays – Fridays. The first hour (8am-9am) being reserved for manamko' and those persons with disabilities.
To make an appointment, call us at (671) 647-3526 or via email at customerservice@takecareasia.com.
Benefit Improvements for 2022
Here are the new benefit improvements being made to all three health plan options (High, Standard, and HDHP).
Please note this is a summary of benefit improvements to the TakeCare FEHB plan options for 2022. This isn't the official statement of benefits. Please refer to the plan brochure for the detail.
Bi-weekly Shares*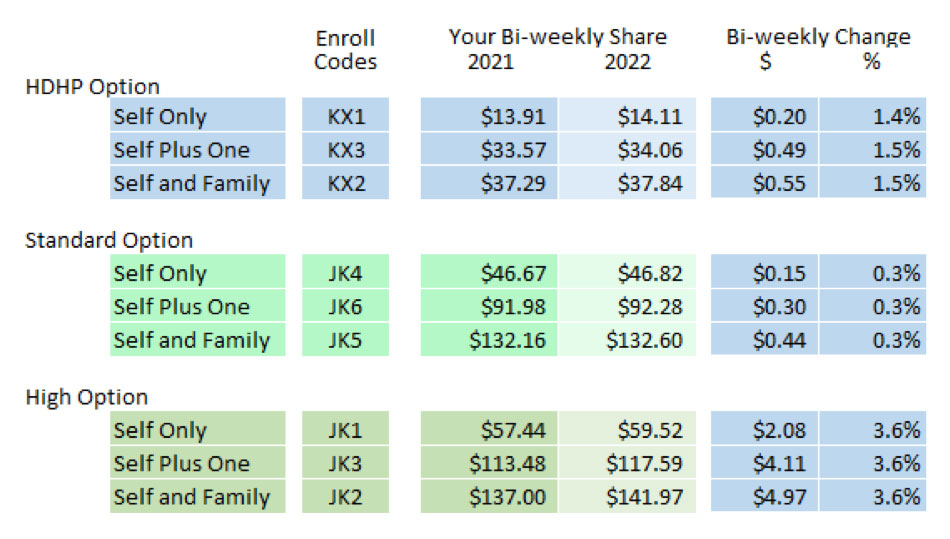 * Effective January 1 2022, premium rate shares are the same for Non-Postal and Postal employees.Monthly shares can be found on the back page of the brochure.
2022 Benefits
The TakeCare Summary of Benefits and Coverage (SBC) for each of its 2022 Options and Uniform Glossary are available through the following links:
Other Important Links